This page is sponsored by Google Ads. ARN does not necessarily select or endorse the organizations or products advertised above.
---

Access Research Network
Molecular Machines Museum
---
Ciliary Motion 1
[ view large format ]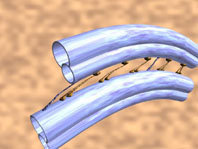 Experiments have indicated that ciliary motion results from the chemically-powered "walking" of the dynein arms on one microtubule up the neighboring subfiber B of a second microtubule so that the two microtubules slide past each other.
Copyright © 1998 Access Research Network. All rights reserved. International copyright secured.
File Date: 6.10.98
---
[ Previous Page ] [ Molecular Machines Home ] [ Molecular Machines Index ] [ ARN Home Page ]
---
This data file may be reproduced in its entirety for non-commercial use.
A return link to the Access Research Network web site would be appreciated.
Documents on this site which have been reproduced from a previous publication are copyrighted through the individual publication. See the body of the above document for specific copyright information.