This page is sponsored by Google Ads. ARN does not necessarily select or endorse the organizations or products advertised above.
---

Access Research Network
Molecular Machines Museum
---
Composite of Light-sensitive systems
[ view large format ]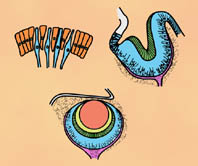 In his video lecture on Irreducible Complexity, Michael Behe uses these illustrations, light-sensitve systems of varying complexity, to explain Darwin's contention that an evolutionary path exists to explain the differences in these systems. Behe, on the other hand, asks "but where did the light-sensitive spot come from?", a question Darwin elected not to deal with.
Copyright © 1998 Access Research Network. All rights reserved. International copyright secured.
File Date: 6.10.98
---
[ Previous Page ] [ Molecular Machines Home ] [ Molecular Machines Index ] [ ARN Home Page ]
---
This data file may be reproduced in its entirety for non-commercial use.
A return link to the Access Research Network web site would be appreciated.
Documents on this site which have been reproduced from a previous publication are copyrighted through the individual publication. See the body of the above document for specific copyright information.