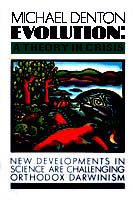 Evolution: A Theory in Crisis
Michael Denton

368 pages, hardback, 1985

Item# B003
Suggested Donation:
$OUT OF STOCK (includes USPS Media Mail shipping to addresses in US only)
$OUT OF STOCK (includes international air shipping to all foreign addresses)

With remarkable clarity the author, an Australian medical doctor and biologist, documents why Darwinian theory of evolution is in serious trouble. Interesting chapters are devoted to such topics as homology, the fossil evidence, the origin of life and cladistics. Most important of all, the discussion of the latest discoveries of molecular biologists, of whom Michael Denton is one, shakes the very roots of orthodox Darwinism by showing that nature, in sum, appears to be profoundly discontinuous. Well-illustrated and referenced.